Albo Digital Overview
Albo Digital (
www.albodigital.com
) has been in business since 2004. All our recent websites are built based on our in house developed Content Management System (CMS) software. We have more then 35 satisfied customers using our system. We believe in developing close personal relationship with our customers and helping them in the creative process of obtaining a useful, easy to manage and well optimized for search engines internet presence. We have launched more then 200 websites, the majority of them are based on our Content Management System.
We also offer Software Development and Search Engine Optimization.
Here are some of our customers' websites:
All websites have server based visitor tracking component included, but there is a possibility of inserting other tracking software (Google Analytics, Statcounter, Extremetracking etc...)

Work process:
At first we learn from a client about their needs and start with the graphical elements. Once the graphics are approved we will implement them within the software. Once this is complete, we start building the pages and populating them with content.
Our CMS software has a very consistent and easy to use menu structure, both for the visitor and for the search engine. We also include a 3 hour Search Engine Optimization course after the website is built to help clients with their online marketing.
Our two main goals for your website are to:
Be an easy to use website for visitors

Rank well in search engines
To obtain these two goals, the website has to be built according certain rules. During the creative process we will advise the client on how to structure their website to get the most advantageous positions in search engines.
Websites can be optimized for search engines by you or by Albo Digital.
Websites based on our CMS attract visitors from all over the world.
Here is an example:
www.polishtatrasheepdog.ca
– recent visitors to Albo Digital's testing website: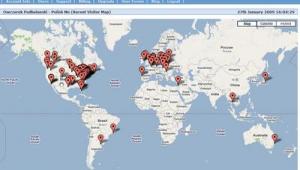 Servicing the website once is ready:
We provide hosting solely for websites that we build for our clients and we do not host any others. We are very responsive to our customers' needs, providing excellent customer service and support. We are always available by email or by phone. Our hosting fees include basic customer support.
Most our clients self-manage their website, but if need be we can manage the website for your organization, in which case the suitable maintenance contract could be put in place.